AFTERLIFE
WENN DU DEIN LEBEN AUSHALTEN WILLST, RICHTE DICH AUF DEN TOD EIN. – Sigmund Freud
AFTERLIFE is an immersive dance production about soul mates and sudden death.
Based on real events, AFTERLIFE is inspired by the love stories of Lillian's and Tom's parents, both of which ended tragically when their fathers died unexpectedly. AFTERLIFE is about the spark that connects equals, the stamina and risk of love, and how everything can change in an instant.
AFTERLIFE will premiere in 2021 at a unique, secret location in Basel, Switzerland in an immersive format that goes beyond stage performance.
A SNOW Production
By: Lillian Stillwell
With: Tom Ryser
Dance: Aline Serrano & Mukdanin Phongpachith
Music: Dj Duo Schwifi, Gaspard de la Montagne, Ghostnotez
Dramaturgy: Anne Schöfer
SCHEDULE
Premiere: Spring/Summer 2021, Dates Pandemic-pending
The site-specific performance will take place in, on and around Basel's most exciting new performance venue.
2021: Artist-in-Residence, Braswell Art Center, Basel, Swtizerland
Open Showing February 13th, Time TBA Rescheuled due to Pandemic
November 2020: Artist-in Residence, Dampfzentrale Bern, Switzerland
Open Showing VIA LIVE STREAM November 27th, 18:00
Due to Covid restrictions in the Kanton of Bern, all live Showings and Productions are prohibited
Curious about how a dance production is created? Watch excerpts of rehearsal here.
January 2020: Artist-in-Residence, Braswell Art Center, Basel, Switzerland
Teaser from January 2020 Research Period with dancers Sophie Vergeres & David Lagerqvist:
MEET THE TEAM
Aline Serrano is a contemporary dancer currently living in Basel, Switzerland. She trained at Ballettschule Theater Basel, Staatliche Balletschule Berlin, Codarts and SEAD Salzburg Experimental Academy of Dance. In 2016/ 17 she danced in Israel at Kibbutz Contemporary Dance Company where she also presented two choreographic works. As a freelance dancer she has worked with numerous choreographers including Alessandro Schiattarella, with whom she toured to Croatia, South Africa, Germany and throughout Switzerland. In the summers of 2018 & 2019 she co-founded the dansfestival ARE YOU KID-ING in Falun, Sweden where she performed and gave workshops. In 2019 her solo "Symbiose der Parasiten" premiered at the Jugend Kultur Festival in Basel. In 2020 she danced at Theater Basel in the recent production of Simon McBurney's "The Magic Flute." Aline teaches classical ballet for adults and is studying to become a Naturopath with a specialty in traditional European medicine.
Muk aka Mukdanin D. Phongpachith is a mover, maker and martial artist. His roots lie in Taekwondo. With a backpack full of fighting and form competitions, he finds challenges in expressing his inner emotions. He studied "Physical Theatre" at the Folkwang University of the Arts in Essen, Germany. He has had the opportunity to participate in both international (Chile, China and Ethiopia) and national (Theater Basel, Käfigturm Bern and University of Basel) art projects. There he was either employed as a performer, actor, dancer or in a leading position as choreographer, director or workshop leader. He lives in Basel, Switzerland.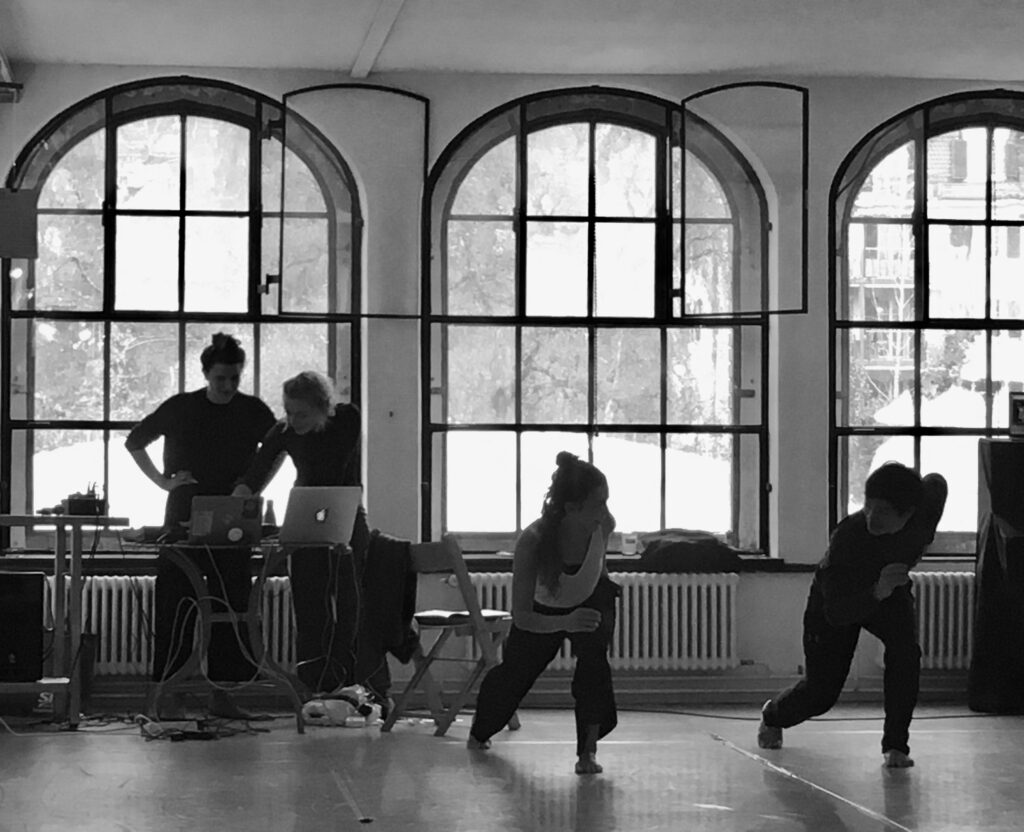 The Dj Duo Schwifi is comprised of two women from Basel, Ada Fischer and Sophia Schwager, who have been active in the Basel music and culture scene for over three years. Their DJ sets move within a broad spectrum of electronic music styles, especially those with a great beat and with a lot of bass. Not only a common passion for music but also a passion for movement connects the two. They met over 10 years ago when they toured through Switzerland together with a youth circus. With AFTERLIFE they are able to connect these two passions in a new context. Their DJ sets can be heard regularly at Basel venues such as Humbug, Kaserne or smaller locations like Nebel or 1. Stock.
Anne Schöfer, Dramaturg, lebt in Basel. Sie studierte in Berlin und Amsterdam Theaterwissenschaft und Kulturmanagement und war bei zwei Ausgaben von Theater der Welt Festivals in der Leitung beteiligt. 1996 wurde sie als Schauspieldramaturgin am Theater Basel engagiert und arbeitete anschliessend am Schauspiel Leipzig. Als Sprachcoach für Deutsch unterstützte sie Theatergroep Hollandia unter der Leitung von Johan Simons bei verschiedenen Festivalauftritten im deutschsprachigen Raum. Sie war als Kommunikationsleiterin beim Internationalen Tanzfestival STEPS #8 tätig. 2003 bis 2017 leitete sie das Ressort kulturelles in Schulen (kis.bl) in der Kulturverwaltung BL. Seither arbeitet sie in ausgewählten, spartenübergreifenden performativen Projekten mit.